Greenacres Fibre Processing
Leo and Karen Ponsonby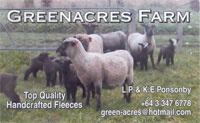 Leo and Karen Ponsonby bring a great deal of knowledge and experience with producing and processing quality fibre to Greenacres Fibre Processing.
They have many years of farming experience, and with sheep in particular. They now run 3 registered flocks of coloured sheep on their Greenacres farm, and a proud members of the Black and Coloured Sheep Breeders' Association of New Zealand.
They show both sheep and fleeces at local and Royal Shows, regularly taking away top prizes in both categories. Their fleeces are also prize winners in the Black and Coloured Sheep Breeders' annual competitions, and have won the Supreme Fleece trophy more than once.
As well as processing fibre for other growers and craft people, Leo and Karen sell their own top quality fleeces to local handcrafters and export them around the world.